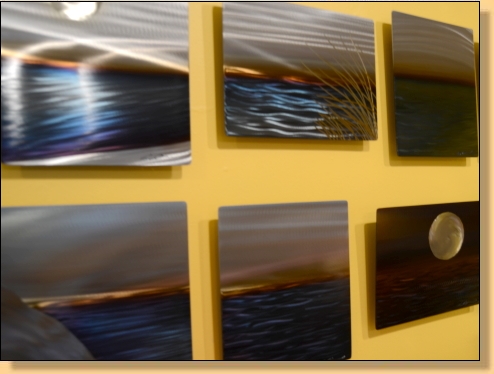 ---
Michigan Artists...

Matt & Lisa Claflin - Charlevoix
Puzzles that Rock, LLC. was created in April of 2009 by Matt and Lisa Claflin. Matt and Lisa have a small specialty food store where they supply fresh meats, deli, pizza and sandwiches to the locals and summer vacationers in Charlevoix, Michigan. Lisa was born and raised in Northern Michigan and has been a rock lover her whole life. Matt grew up in New Hampshire and learned his love of rocks when he saw his first Petoskey stone. Matt, Lisa and their boys (Jacob and Nathan) have collected hundreds of these stones and love to spend time seeking and polishing them. Matt and Lisa are avid puzzlers and decided that they would create the Petoskey stone puzzle one very slow winter's day.

Leonard Fieber - Manistique
Leonard Fieber's Beaver Chew Furniture is in his own words a collaboration between the beaver and the craftsman. The beaver selects the wood and determines the shape and texture of the sticks. Leonard then collects them from the rivers, lakes and streams of Michigan's upper peninsula and fashions them into unique natural furniture and accressories. Each and every piece gorgeous tribute to nature and the ultimate use of recyled materials.

Louise Hopson - Muskegon
Louise Hopson has been creating bright and joyful one-of-a-kind pieces in clay for over 30 years. Hailing from her small studio in Muskegon, MI. Louise views her artwork is an extension of herself. She strives to preserve her artistic integrity and individual handprint in each piece she fires. She works primarily with white earthenware clay, colors that are bright and patterns that are bold. Themes of joy, celebration, empowerment, romance, environment and self awareness are prevalent in her creations, her work is whimsical and serious at the same time.

Kristen Jongen - Traverse City
Founder of Soul Soup, LLC. Kristen has been an artist since she was a young girl. Located in Traverse City, MI, Soul Soup is a creative enterprise featuring her artistic imagery and inspirational poetry. Jongen's organic artwork blends natural fibers and handmade papers with precious metals. In addition to her paintings, prints and greeting cards, Kristen is also a published author with two books already to her credit. She writes with brutal yet inspirational honesty about the ups and downs of living, losing, and facing the unexpected.

Matt Joppich - Traverse City
A native of Traverse City, MI, Matt Joppich has studied with several respected craftspeople. Matt allows the beauty of the wood to harmonize with the design. He feels a deep obligation to give trees an honorable second life through his furniture. Matt personally selects wood from across the country and prides himself in finding some of the finest available. He uses only wood harvested from sustainable growth forests or salvaged trees for the health of the environment. Most of the pieces are made from domestic woods with some exotic woods for details. Some woods he uses are American Black Cherry, Big Leaf Maple, Claro Walnut, Elm, Ash, White Oak, Mahogany, Macassar Ebony and Rosewood, many of which have been chosen for their incredible color and figure.

Krys Lieffers - Traverse City
Turtle Island Fibers located in Traverse City, MI produces finely handwoven, hand dyed rugs from industrial mop cotton. Color is the focus of Krys' work and her weavings are a vehicle that provides for subtle nuances of color change through the interlacement of warp and weft. According to Lieffers, the pattern of life is echoed by the weaving process in that it is an integral relationship between the artist, loom, and yarn which is vital to the creation of woven expression.

Al Rollings - Leland
Al Rollings began carving as a hobby twenty years ago. His background as a veterinarian and outdoorsman enhance the realism of his wild birds and fish. Living in Leland, Michigan he discovered Lake Michigan driftwood as a natural medium for his creations. Al allows the driftwood to impressionistically suggest the body of the work as it morphs to a realistic representation of an animal. His impressive pieces are a feast for the imagination of any naturalist.

Leif Spörck - Suttons Bay
Spörck Tileart is located in Suttons Bay, MI and was founded by Leif Spörck. Being the son of accomplished ceramic artists, Leif has had his hands in clay since he was 2 years old. After receiving his pre-law degree, Leif decided to pursue his desire to design and produce a line of artistic ceramic tiles that would reflect his love of the natural environment. Spörck's tiles represent his perceptions of the colorful wildlife, the blue waters, the verdant farms and the various and beautiful locations that surround him.

Dianne Wakefield - Maple City
Dianne Wakefield has been creating and carving mostly Michigan waterfowl and shorebirds for almost 20 years. Originally inspired by old decoys with a wonderful time worn patina, Dianne enjoys the simplicity of working in a traditional way on a craft that has been around since the early part of our history. Many of the birds she carves are those seen along the shore of her Michigan home.

Hanni Yothers - Pellston
Hanni Yothers has a teaching degree in biology, but now owns an art gallery in Harbor Springs, MI with her husband. The Hanni Gallery showcases many of Yothers' own pieces as well as the works of numerous local and nationally acclaimed artisans. She is known for etching, and does a lot of words and designs on sterling silver. Inspirational Bracelets, cuffs and initial pedants are among her most sought after pieces.


---
National Artists...

Tom Edwards - Colorado
Tom Edwards is a self proclaimed pottery geek and cartoonist based in Golden, CO. Tom's work is an eclectic blend of years of clay crafting expertise and an off-beat sense of humor. His work began very functional and traditional, with the exception of his fondness for using striking high fire copper red, iron brown and rutile blue glazes. His most well known work, Wallyware evolved by chance or by fate according to Tom, and have allowed him to express all the elements of his creativity. The first dog, Bo Obama eats and drinks from handcrafted Wallyware bowls produced by Tom Edwards' studio.

Sarah Grant - Iowa
Sarah Grant, founder of Sticks holds a fine arts masters degree in painting and intaglio printmaking from the University of Iowa. The company began in 1992 by designing smaller items such as ornaments and candlesticks, and has evolved to feature larger items such as dining sets, beds and armoires. Since then, Sticks has received national acclaim for its distinctive line of furniture, accessories and object art and can be purchased in galleries all over the United States.

Amy Hardacre - Ohio
Amy Hardacre creates novel paperclip holder sculptures in her studio in Chargrin Falls, OH. The themes of these convenience inspired sculptures vary, but her most acclaimed work is her "yes ma'am" and "yes sir" bobble head series. Also available are lion and bobble head bird creations. These sculptures are frivolous but functional, and add an air of playful inspiration to the typically mundane environment that is the office.

Renee Hickman - Oregon
Based in Portland, OR, Hardware by Renee was launched in 2001. Artist and designer, Renee Hickman specializes in contemporary handbags produced with atypical items such as hardware and recycled materials. The collection features a range of modern colors with a clean urban style. She strives to create a line of strong, sexy, and smart handbags that easily transition from day to evenings. Inspired by her vision of today's woman, the line of handbags proves durability need not be dowdy, and femininity not fussy or fragile.

Prentice Hicks - Tennessee
Wauhatchie Glassworks is the culmination and ongoing result of incessant dreaming, thinking, and working. It is the studio of Prentice Hicks located in Chattanooga, TN. A former merchant seaman and captain, Prentice holds a fine arts degree in ceramics, although later found his true inspiration in the fluidity of colored glass. His work shows his nature as an artist and his learning as a seafarer. He believes that one has to give his all and let the material give its all in order to have an outcome that can stand on its own. The character Prentice sees in glass is what makes his work so individual, strong, and beautiful.

Jennifer Nielsen - Maine
Jennifer Nielsen is an artist who works in metal, plays in stone, dreams in jewelry, and finds joy in all three. A trained metalsmith who has studied under some of the most talented craftspeople in the medium, she transformed her love of rocks and minerals into a profession that elevates uncommon beach pebbles to a place that showcases their natural allure. Jennifer has a special kinship with "rock picker-uppers" – people who come home with stones and pebbles in their pockets from walks, beach trips, and world travels. Her custom creations turn their gathered treasures into beautiful, wearable memories for a wedding, an anniversary, or just because.

Daphna Simon - New York
Daphna followed her passion for design and studied goldsmithing under one of the most respected and highly regarded goldsmiths in Israel, eventually launching her own business in 2007. Her exciting and unusual designs are a reflection of her love of nature and her fascination with all things wild. Daphna finds inspiration in everything from the textures of rocks and trees to the shape and behavior of wild animals. She invests much thought into designing each piece of jewelry, which she then sculpts with meticulous attention to detail, using a special technique in order to achieve the desirable "rough", natural effect which characterizes her jewelry.




---



Ruth Conklin Gallery
6632 M-109 | POB 343 | Glen Arbor, MI 49636


ph: 231-334-3880 | fx: 231-334-3335
Open Daily May 1 to October 31





© Copyright 2000-15 RuthConklinGallery.com, All Rights Reserved | Web Site Design & Hosting by Northern Web Services, Inc.